To simplify your search and ensure your hard-earned money is well-spent, we've compiled a list of the 9 Best Gaming Laptop Brands on the market. These brands have a track record of delivering top-notch gaming experiences. Whether you're a seasoned gamer or new to the world of gaming laptops, you can trust these brands to provide reliable performance and immerse you in your favorite virtual worlds with confidence.
Here is our listicle for the Best Gaming Laptop Brands, each having a successful performance history of their own admitted by the enthusiasts in the space. For clarity, these brands aren't mentioned by ranking or classified by popularity as we aim to highlight companies that have struggled hard to set their footing in the arena.
List of Best Gaming Laptop Brands:
Acer
Acer's journey began in 1976 when Stan Shi, along with his wife Carolyn Yeh and five friends, founded the company under the name Multitech International. Initially, Acer operated as a distributor of electronic components. In 1987, the company underwent a transformation, rebranding itself as Acer and venturing into the technology sector. It marked the beginning of Acer's transition from a mere distributor to a creator of its own electronic products.
The company made a significant stride into the gaming laptop arena in 2008 with the introduction of its first gaming laptop series, the Predator. Over the years, Acer has solidified its reputation as a prominent name in the technology industry, ranking among the top 10 global companies responsible for producing a wide range of technological equipment, from laptops and tablets to cutting-edge VR headsets.
Acer caters to a broad spectrum of users, including casual consumers and artists, with various laptop series. However, its standout contributions to the gaming world lie in two main lineups: the Predator and the Nitro series. These gaming laptops have consistently held their positions as top contenders in the market, thanks to their combination of high-end specifications and sleek designs. Remarkably, Acer has managed to maintain a commendable level of portability in these gaming laptops, ensuring that even with their powerful performance, they remain relatively lightweight.
Acer's gaming laptops are renowned for their impressive performance, boasting the latest NVIDIA graphics cards from the RTX 40 series and Intel's and AMD's cutting-edge processors. Moreover, the build quality of each laptop comprises a premium feel, making them a favored choice among gamers. It's no surprise that Acer has secured its spot as the fifth-largest PC vendor in terms of unit sales worldwide.

MSI
Founded in 1986, Micro-Star International, commonly known as MSI, stands as one of the premier motherboard manufacturers globally. From its inception, MSI has been at the forefront of motherboard innovation, earning a reputation for producing durable and high-performance products. This commitment to quality quickly established MSI as a trusted name in the industry.
Over the years, MSI diversified its product portfolio, expanding beyond motherboards into a wide array of technological equipment, including notebooks, audio players, laptops, and gaming products. Notably, MSI has made a significant impact in the world of laptops, particularly in the gaming sector.
MSI's entry into gaming laptops can be traced back to 2008 when the company sponsored Fanatic, a pivotal moment that laid the foundation for MSI's current line of gaming laptops. Since entering the gaming market, MSI has earned numerous accolades for delivering outstanding user experiences and innovative designs on its laptops.
Micro-Star International boasts a diverse range of laptop series, but its gaming laptop offerings shine brightest. Notable among these are the MSI Stealth, MSI Raider GE, and MSI Titan GT series. These lineups have consistently held their positions as leaders in the gaming laptop arena. Their acclaim is owed to their sleek, slim designs, robust build quality, and uncompromising performance.
The latest iterations of MSI's gaming laptops, such as the MSI Stealth 14, are equipped with cutting-edge NVIDIA GeForce RTX 4000 series GPUs, Intel Raptor, and Alder Lake processors. These components propel MSI's laptops to the forefront of the market, setting new standards for gaming performance and visual excellence.

ASUS
ASUS, hailing from Taipei, initially began as a motherboard manufacturer. The company's journey commenced with the efforts of four individuals who previously worked at Acer. ASUS rapidly gained prominence in the industry by playing a pivotal role in resolving a critical bug in Intel's 468 chipset. It further solidified its position by becoming the first company to launch a motherboard compatible with this groundbreaking processor. This early success laid the foundation for ASUS's future in the technology realm.
Over time, ASUS expanded its horizons, venturing into the television market and establishing a firm presence in the broader technological landscape. In 1997, ASUS made its entry into the laptop market, marking the beginning of a new chapter in its journey. However, it was in 2006 that ASUS made a significant impact on the gaming industry with the launch of its iconic ASUS ROG (Republic of Gamers) gaming laptop series.
The ASUS ROG series quickly became a household name among gamers, earning awards for its performance and cutting-edge features. Notably, ASUS earned recognition for crafting the thinnest notebook in the market, measuring a mere 19mm in thickness.
While the ASUS ROG series remains ASUS's flagship gaming laptop line, other series such as ASUS TUF, TUF Dash, and Zephyrus have also garnered significant popularity within the gaming community. Gamers are drawn to these laptops for their sleek aesthetics, slim profiles, and exceptional performance. These features have solidified ASUS laptops as a top choice for gamers of all kinds.
The latest iterations of ASUS ROG and ASUS Zephyrus series laptops boast impressive battery life, even when paired with the power-hungry NVIDIA GeForce RTX 4000 series GPUs and the latest Intel Alder Lake and Raptor Lake processors. This commitment to innovation ensures that ASUS, one of the Best Gaming Laptop Brands, continues to deliver laptops that meet the demanding needs of modern gamers.

HP
HP, short for Hewlett-Packard, has a storied history that began in 1939 when it was co-founded by Bill Hewlett and Dave Packard. HP's initial entry into the business world wasn't in computing but rather in the production of an audio oscillator, which found a notable customer in none other than Disney. As the company evolved, it made significant strides in the fields of astronomy and sciences.
The company ventured into the computer industry in 1966 with the introduction of its first PC which marked a significant milestone as HP embarked on a journey that would reshape the global technology landscape. Notably, HP played a pioneering role in the market by introducing fax machines and compact printing devices, a departure from the industry-standard large machines.
HP's entry into the world of portable computing came in 1995 with the launch of the HP Pavilion series, the company's first laptop lineup. These laptops were designed to directly compete with series like Acer Aspire and Dell Inspiron, catering to the evolving needs of consumers.
The tech giant boasts several renowned gaming laptop series, including the HP Victus and HP Omen. These series have garnered acclaim for their remarkable blend of affordability and high-end specifications. They offer a range of variants, each tailored to different preferences in terms of screen size and performance. What sets the Victus and Omen series apart is the diversity of features they offer compared to competitors in the market.
The latest iterations of these gaming laptop series feature powerful hardware from both Intel and AMD. Victus and Omen support the AMD Radeon 7000 series processors and AMD RX 7000 series GPUs. They also support NVIDIA's RTX 40 series GPU lineup and the latest Intel Alder and Raptor Lake processors. This combination of high performance and cost-effectiveness has solidified HP's position as a prominent player in the gaming laptop market. Their strong brand reputation further contributes to its consistent success year after year.

Dell
Dell, founded by Michael Dell at the University of Texas in 1984, began its journey under the name "PC's Limited". Initially, it specialized in PC customization and upgrades, marking the genesis of a company that would eventually become a major player in the computer industry.
Dell's path in the computer industry has been marked by both challenges and successes. Despite facing numerous ups and downs, the company's resilience and the unwavering commitment of its CEO have been instrumental in its enduring success. As of 2021, Dell proudly holds the position of the third-largest PC vendor globally. Beyond computer hardware, Dell has diversified its offerings to include cameras, printers, and more.
Dell's most celebrated contribution to the gaming world is the Dell G series. These laptops, available in 15 and 16-inch screen sizes, are renowned for their exceptional specifications. The laptops typically feature cutting-edge components, including top-of-the-line RTX 3000, RTX 4000, and AMD's latest Radeon 7000 series GPU, often paired with Intel's Alder Lake and Raptor Lake processors or AMD's RX 7000 series processors.
Dell stands out by offering users the flexibility to customize their laptop specifications to meet their individual needs. This personalized approach allows users to select their preferred storage capacity, display screen, and other specifications. Dell's exceptional customer support further cements its reputation, making it a top gaming laptop brand and a trusted choice for users who value reliable assistance when needed.

Lenovo
Established in 1984 by Liu Chuanzhi, Lenovo is a prominent Chinese company that initially entered the scene as a seller of personal computer units. Its rapid growth trajectory was accelerated through strategic collaborations with industry giants, most notably IBM. Lenovo's proactive approach to mergers and acquisitions is evident from its acquisition of Motorola Mobility from Google in 2014.
Over the years, Lenovo has diversified its product portfolio, venturing into servers, PCs, laptops, software, and more. The company's overarching mission is to create comprehensive solutions that cater to the diverse needs of users. With its headquarters in Hong Kong, Lenovo has evolved into a global player in the technology arena.
While Lenovo has a rich history of producing a wide range of technological products, it has recently directed its focus towards handheld and wearable devices, including smartphones and watches. This shift aligns with the company's commitment to adapt to evolving consumer preferences. In 2021, Lenovo earned the distinction of becoming the world's largest personal computer vendor by unit sales. This achievement underscores the trust that users worldwide place in the brand.
Lenovo entered the gaming laptop arena with the IdeaPad Y series, marking its appearance by advertising laptops as gaming devices. The distinctive 'Y' symbol on the back of these laptops symbolizes the IdeaPad Y series' commitment to gaming excellence. Additionally, Lenovo offers other popular gaming series, such as the Lenovo Legion Slim, Lenovo Legion Pro, and Lenovo LOQ. These series are celebrated for their sleek and stylish designs paired with exceptional performance capabilities. The latest iterations of these laptops are equipped with high-end components, including NVIDIA GeForce RTX 4000 series and AMD Radeon 6000 and 7000 series GPUs, complemented by cutting-edge Intel and AMD processors.

Razer
Razer stands as an emblematic gaming-centered company, committed to crafting products and peripherals that elevate the gaming experience to new heights. The gaming world isn't just a pastime; for many, it's a profession, and Razer's products are held in high regard by this dedicated community. Established in 2005, Razer set its course with dual headquarters in San Diego, California, and Singapore. From its inception, the company was unwavering in its mission to cater to the unique needs of gamers.
Razer's maiden product, the Diamondback gaming mouse, marked the beginning of their journey, symbolizing their dedication to precision and performance. They swiftly embraced collaborations with industry giants, including Microsoft, to develop customized keyboards and mice tailored to gamers' demands.
While Razer ventured into the smartphone market in Q4 2017 with the acquisition of Nextbit, the creators of the Robin Smartphone, the venture eventually transitioned into a different direction due to the dynamic nature of the smartphone industry.
In 2011, Razer introduced its gaming laptop series, aptly named the Razer Blade series. These laptops span a range of display sizes, from 14 to 18 inches, catering to gamers of all preferences. Under the hood, they boast NVIDIA GeForce RTX 30 and 40 series graphic cards, coupled with the latest Intel Alder Lake and Raptor Lake processors or AMD Ryzen 7000 series processors.
The computing pioneer is renowned for its RGB products, and their laptops are no exception. The Blade series laptops are bedecked with RGB lighting, enveloping the entire laptop and keyboard. This RGB customization is a key selling point, allowing gamers to personalize their laptops' aesthetics and immerse themselves in a vibrant gaming experience.
Razer's commitment to gaming excellence has garnered recognition and awards, cementing its status as a trusted brand within the gaming community. The company's online gaming platform, Razer Cortex, further enhances the gaming experience, showcasing the company's dedication to creating a thriving gaming ecosystem.

GIGABYTE (AORUS)
GIGABYTE Technologies, founded by Pei-Cheng Yeh in 1986, primarily earned its reputation as a motherboard manufacturer for Intel and AMD processors. However, GIGABYTE's prowess extends beyond motherboards, encompassing a diverse range of products, including data servers, server motherboards, peripherals (mice and keyboards), and power supplies.
In 2004, GIGABYTE received the prestigious National Quality Award and earned a place among the top 20 best Taiwan Global Brands. This recognition highlighted the company's commitment to quality and innovation.
While GIGABYTE has traditionally focused on GPUs, their laptops also excel in performance. The AORUS series, GIGABYTE's inaugural gaming laptop lineup, was complemented by the AERO series, tailored to meet the needs of creators. These laptop series now stand at the forefront of GIGABYTE's offerings, featuring RTX 40 series GPUs and the latest Intel 12th and 13th Gen processors, ensuring top-tier gaming and creative capabilities.
GIGABYTE's G series laptops are a testament to versatility, offering the latest Intel and AMD processors paired with high-end GPUs. The G series encompasses the G5, G6, and G7, each with varying screen sizes (15, 16, and 17 inches, respectively), catering to a broad spectrum of user preferences.
In 2023, GIGABYTE faced a significant challenge when researchers at Eclypsium uncovered a backdoor vulnerability in GIGABYTE's laptops. However, GIGABYTE swiftly responded, assuring users of prompt fixes to address the issue, reflecting their dedication to security and user trust.
GIGABYTE's commitment to innovation, quality, and adaptability has propelled it to the forefront of the gaming laptop market, where its laptops continue to deliver exceptional performance and cater to diverse user needs.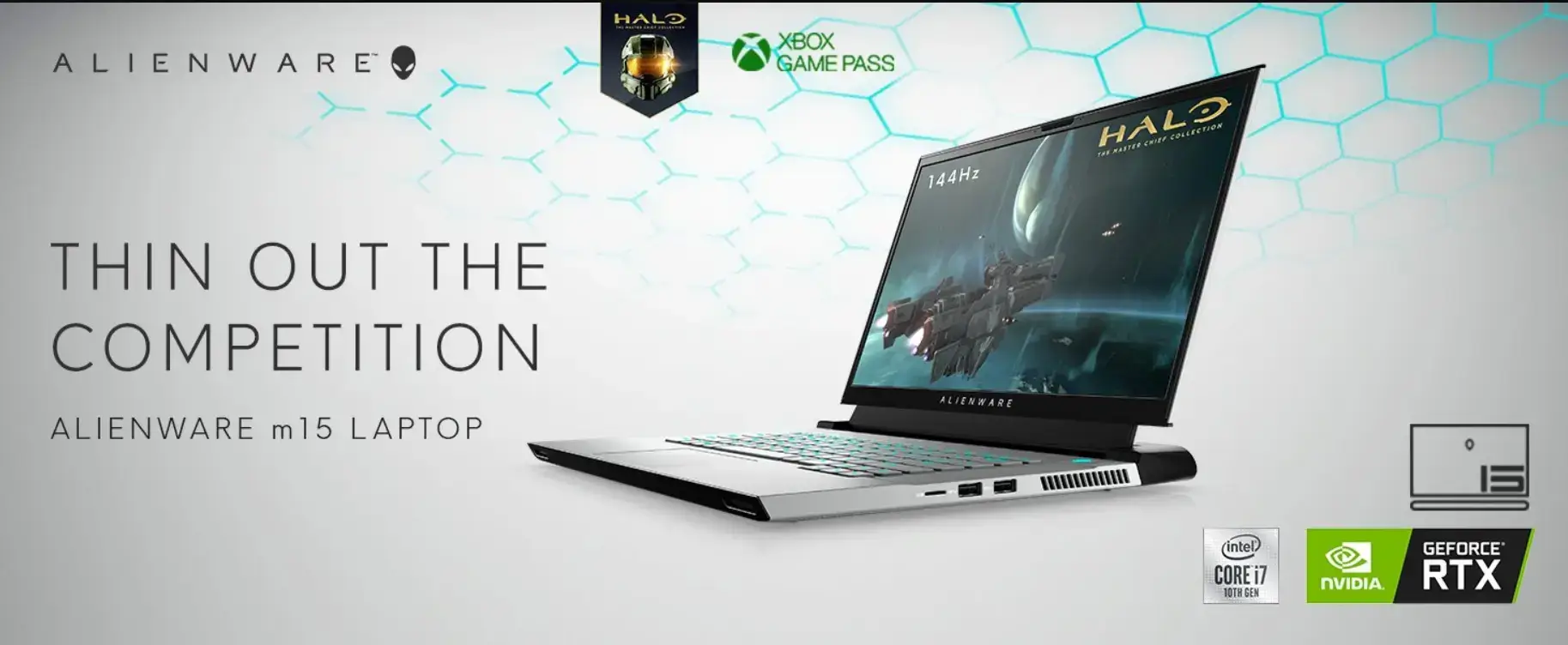 Alienware
Alienware's journey began under the name "Sakai", founded by childhood friends Nelson Gonzalez and Alex Aguila. Initially, the company specialized in assembling business laptops, earning a reputation for high-quality products. The turning point came in 1996 when Alienware ventured into the gaming scene, focusing on integrating graphics cards into laptops. This move anticipated the growing popularity of gaming.
In 1997, they rebranded as Alienware and unveiled their inaugural gaming laptop, the Area 51-M, in 2002. This groundbreaking device featured dedicated graphics cards, although its weight and battery life left room for improvement.
Alienware's journey in gaming laptops gained momentum in 2003 with the release of the Area 51 Predator 1. Packed with the NVIDIA GeForce 5900 graphics and Intel Pentium 4 processor, it marked a significant step forward; their reputation for creating high-performance, quality products took root during this period.
In 2006, Alienware was acquired by Dell, a move that ushered in a new era of collaboration and innovation. Alienware's commitment to delivering exceptional products has remained unwavering under the Dell umbrella.
The brand's laptops, while often commanding a premium, have earned their place with stunning gaming gear designs and top-tier performance. Renowned for their superior build quality, these laptops are distinctive for their otherworldly, space-themed aesthetics. Alienware's laptops, bearing the "Dell Alienware" moniker, can be found on Dell's official website. The lineup includes the Dell Alienware x14, Alienware x15, and Alienware x16, with the numerical suffix denoting screen size. These laptops boast dedicated graphics cards from the NVIDIA GeForce RTX 40 series and feature the latest Intel processors from the Raptor Lake series.
Alienware's legacy of innovation, paired with its captivating designs and high-performance hardware, continues to make it a top gaming laptop brand and a standout choice for gamers seeking top-tier gaming experiences.
Outro
Selecting the ideal gaming laptop is a pivotal decision for every gamer, as these investments typically carry a higher price point and are expected to remain future-proof for at least the next 4-6 years. In our comprehensive guide, we've delved into the backgrounds of the industry's leading gaming laptop manufacturers, shedding light on their credibility and commitment to excellence. Additionally, we've explored their most renowned gaming laptop series, simplifying the research process for you.
Rest assured, the brands featured in this article are celebrated for their unwavering dedication to customer support, impeccable product craftsmanship, and cutting-edge specifications. We trust that our 9 Best Gaming Laptop Brands guide has provided valuable insights to aid you in choosing the best gaming laptop manufacturer for your needs.