Gone are the days when students solely relied on textbooks and handwritten notes. Now, online tools make learning easier, and Chrome extensions are especially helpful. They will help you enhance productivity, make fewer mistakes, and organize your online work.
According to some studies, many schools now use gadgets like Chromebooks. With these changes, students are finding better ways to study. Let's look at the top 10 Chrome extensions that you can download.
List of Top Chrome Extensions
Writing and Editing
As a student, clear communication is the key for you, and written assignments are a major part of academic life. Writing and editing extensions can help you craft polished, error-free work. They not only catch mistakes but also enhance the overall quality of writing. With these tools, you can confidently present your ideas and make the right impression every time.
Grammarly is a digital writing assistant that helps individuals, including students, enhance their writing. It is a personal editor right at your fingertips that makes sure your writing is clear, error-free, and effectively communicates your thoughts.
Here's how Grammarly can be a game-changer for you:
Whether you are drafting an essay or sending an email, Grammarly spots, and highlights grammar and spelling mistakes. In this way, you can easily correct them instantly with a click
Beyond just catching errors, Grammarly offers suggestions to improve the clarity, tone, and style of your writing. This means your assignments won't just be correct, but they'll also be well-written and impactful.
With Grammarly, you can write with the assurance that your work will be professional and free from common writing issues.
Grammarly offers different plans to cater to various needs; these include:
This is a great starting point and covers basic writing corrections like spelling errors. The free version is a boon for those on a budget but still wanting to refine their writing. With the capability to handle up to 100 prompts each month, it is an ideal choice if you need basic checks for spelling, grammar, and punctuation.
If you write more extensively and seek a deeper level of refinement, Grammarly Premium is the way to go. At just $12 a month, you will get access to a whopping 1000 prompts. This plan is designed for professionals, students, and avid writers.
Enterprises and teams that prioritize high-end communication should consider Grammarly Business. Priced at $15 per member each month, it offers a generous 2,000 prompts per member.
However, as a student, this level of service might be more than what you need. The individual-focused plans, like Grammarly Free or Premium, could be more aligned with your academic writing requirements.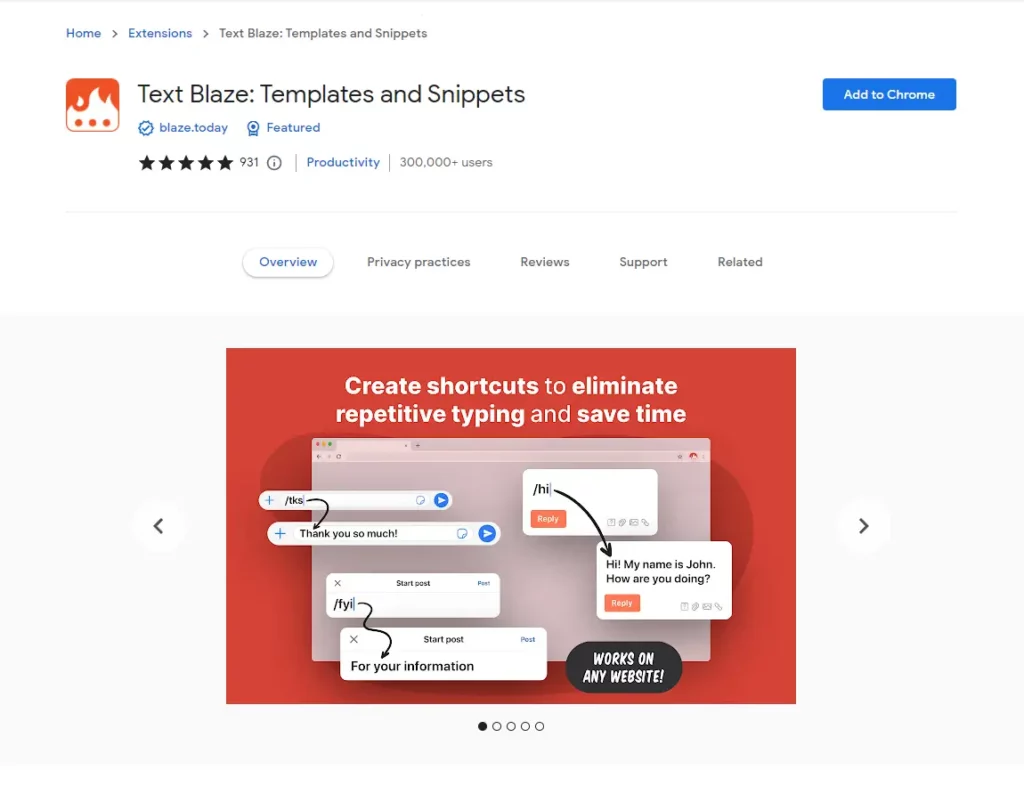 You might often find yourself typing repetitive phrases or sentences, which can be both time-consuming and tedious. To save yourself time, use the Text Blaze Chrome extension; it is absolutely free to use. Following are some of the best features that Text Blaze offers:
Text Snippets and Templates
Text Blaze allows you to save chunks of text, known as "snippets," as templates. These templates can be assigned specific keyboard shortcuts.
For instance, if you frequently type "Thank you for your understanding," you could save it as a snippet and assign a shortcut like "/ty." The next time you type "/ty" in Chrome, it will automatically expand to the full sentence.
Versatility Across Platforms
Whether you are writing an email in Gmail, working on an assignment in Google Docs, or networking on LinkedIn, Text Blaze is there to assist. It is designed to function conveniently across various platforms within the Chrome browser.
Beyond just text, Text Blaze offers dynamic templates. This means you can integrate forms, formulas, and even site integrations to further customize your snippets and make your writing process even more efficient.
Sharing and Collaboration
If you have created the perfect snippet or template, you can easily share it with others. This collaborative feature ensures that you and your study group, for instance, can benefit from each other's snippets.
Consistency and Productivity
With features like "auto text," "text expander," and "macros," Text Blaze ensures that your writing remains consistent. It is not just about speed but maintaining a uniform quality in your writing, which is important for academic submissions.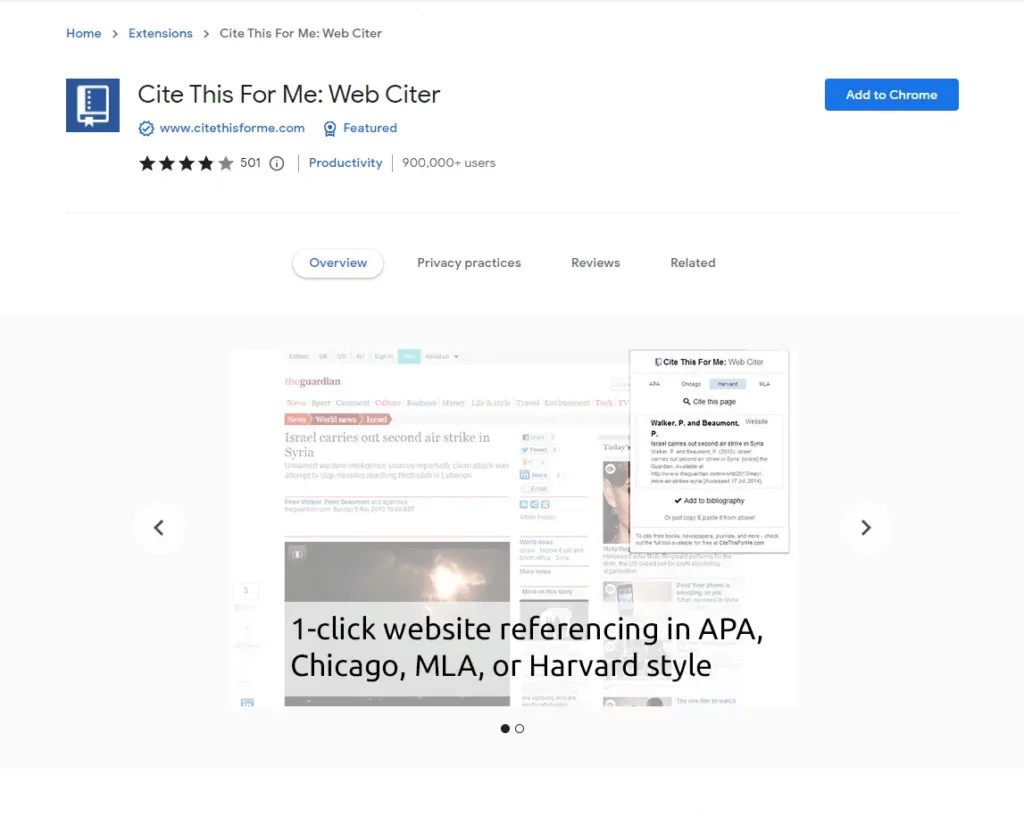 There comes a point in your academic life where you have to cite various writing pieces in different formats. With Cite This For Me Chrome extension, you can ensure that your work is properly referenced.
Below, you can find some of the top features of this tool:
Versatile Citation Generator
The tool supports a vast array of citation styles, including popular ones like Harvard, APA, MLA, Chicago, Vancouver, and many others.
Even if you are unfamiliar with referencing, Cite This For Me provides forms and automatic citation features that guide you through the process and make sure that you input the necessary information.
Automatic Source Detection
For common source types like websites, journal articles, and books, the tool automatically detects the source's details based on the information you provide.
Beyond just generating citations, Cite This For Me offers detailed guides on various citation styles. This lets your paper fulfill all of the specific requirements of each style.
Research and Reading
Student life is incomplete without research and reading, but remembering everything can be tough. That is where these extensions help, as they let you highlight important parts and make notes easily. This way, you can quickly find and review key points later.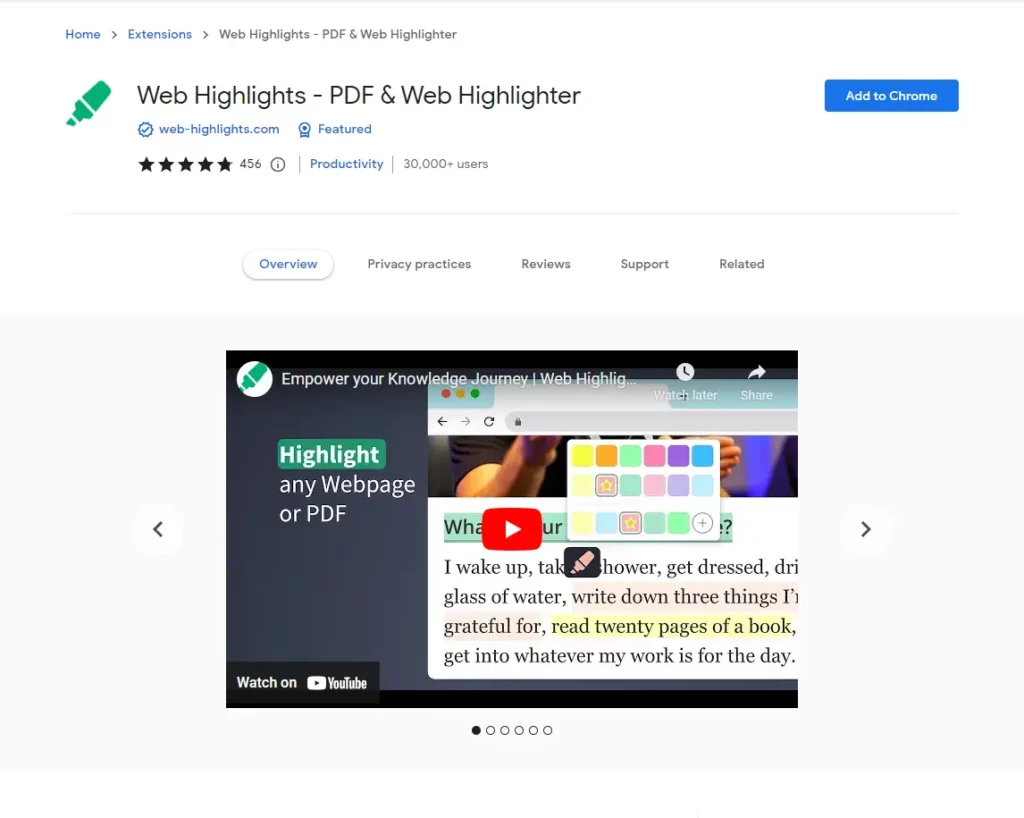 As a student, the need to make notes by highlighting important parts is important. This Chrome extension is designed to enhance productivity by allowing users to highlight content on any website or PDF. It is a free tool that is easy to use and doesn't require any sign-up.
Following are some of the features it offers:
Toggle Highlighter Pop-up
It provides a user-friendly interface where you can easily activate or deactivate the highlighter pop-up through the settings icon. This gives you control over when you want to use the feature.
Broad Website Compatibility
While this extension is designed to function seamlessly on a majority of websites, it is worth noting that certain sites might pose compatibility issues due to their unique code structures.
Customizable Keyboard Shortcuts
Enhance your efficiency by setting up personalized keyboard shortcuts for the extension. This can be done directly through Chrome's settings.
Not limited to just web content, the extension allows you to highlight content in online and locally stored PDFs. To use the feature on local files, simple permission to access file URLs is required.
Export and Share Research
Beyond just highlighting, you can export your research in various formats like PDF or HTML. Additionally, you can copy your highlights in Markdown or HTML, which makes it easy to integrate into platforms like Notion. Sharing capabilities also means you can showcase your research and insights with others.
An organizational dream, the extension comes with a tagging feature. This means you can categorize, locate, and revisit your research effortlessly. The built-in search bar further streamlines this process so that you can access specific content in seconds.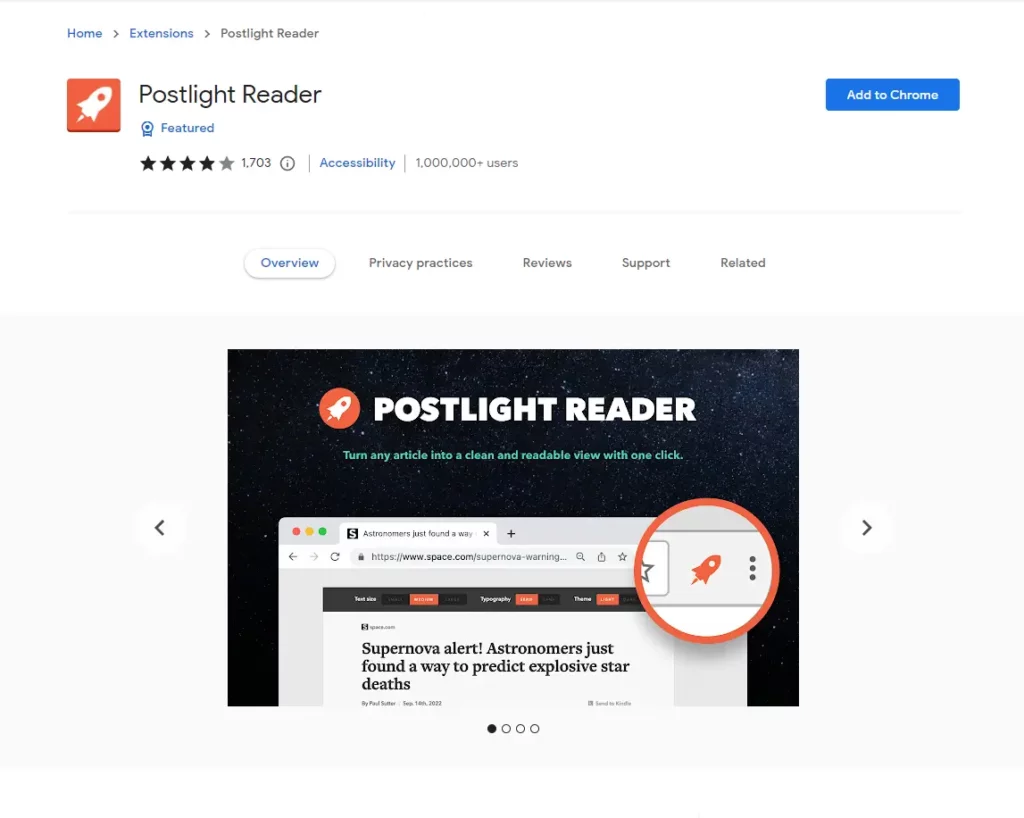 When diving into a good read, especially for academic purposes, a cluttered screen with ads and pop-ups is the last thing you would want. To ensure a clean and focused reading experience, the Postlight Reader extension comes to the rescue.
It is designed to enhance your online reading experience by stripping away all the unnecessary distractions. With this extension, you can immerse yourself in the content, free from the chaos of ads, banners, and other web page clutter.
Here are a few of its impressive features:
One-Click Distraction Removal
With a simple click on the Rocket icon located at the top-right corner of your screen, the extension works its magic. It removes all the distracting elements from the webpage.
Found an article you would like to read later? Postlight Reader allows you to send articles directly to your Kindle account to make offline reading a breeze.
Customizable Reading Experience
Customize the reading environment to your preference by adjusting the typeface. You can also modify the text size and switch between light or dark themes to suit your reading mood.
No need to fumble with the mouse; just use quick keyboard shortcuts like (Cmd + Esc for Mac and Alt + ` for Windows) to activate the reader mode instantly.
If you prefer a physical copy, the extension ensures that your articles are print-friendly and give you a clean and well-formatted output.
With Postlight Reader, you can quickly share articles through popular platforms like Facebook, Twitter, or even via Email.
Productivity and Time Management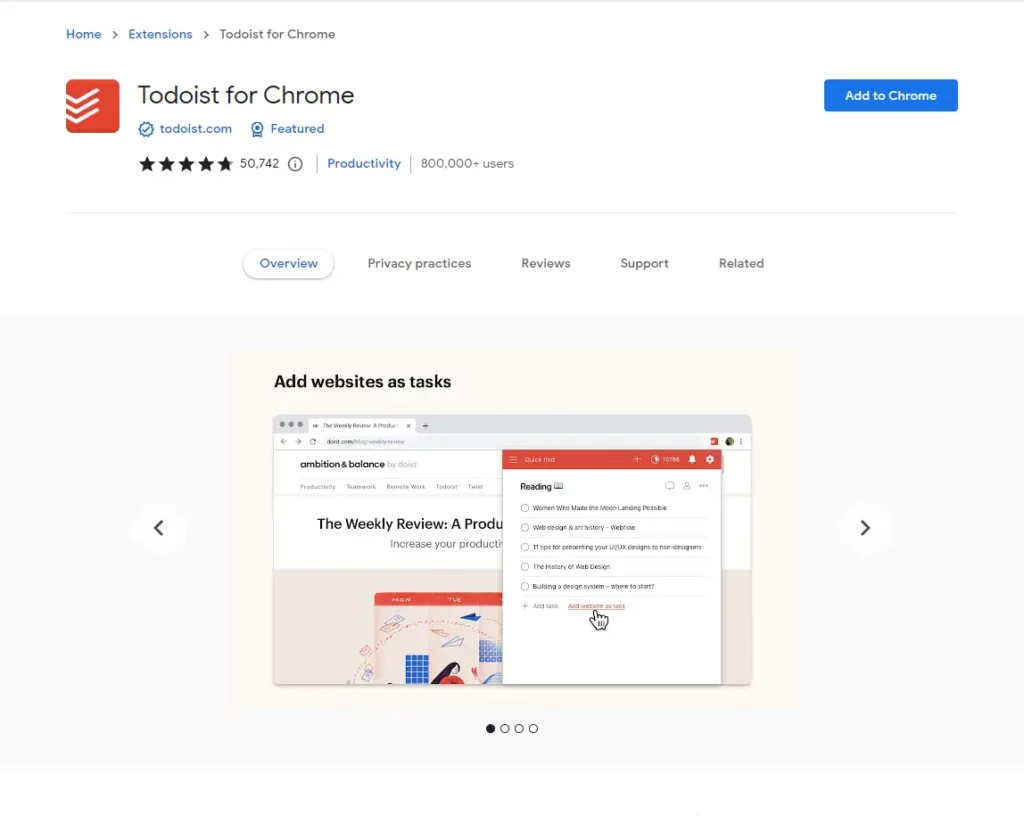 Sometimes, the hustle and bustle of daily life can become overwhelming, due to which you can forget important tasks and miss deadlines. For those moments, Todoist steps in as a reliable companion for you to stay organized and on top of your responsibilities.
Todoist is a globally recognized task manager and it is trusted by millions of people to help manage their work and personal lives. Here is what makes it stand out:
Natural Language Recognition
Simply type your tasks into Todoist, and its unique natural language recognition system will instantly populate your to-do list. This makes the task entry process intuitive and quick.
Achieve mental clarity with Todoist's organized task views. Your tasks are automatically categorized into "Today," "Upcoming," and custom "Filter" views so that you always know what is on your plate and what is coming next.
Juggling between personal and work tasks? Todoist has got you covered. With its workspace feature, you can have your personal, work, and team tasks all in one place. This means no more switching between apps or platforms because everything you need is under one roof.
Prioritization and Clarity
Todoist helps you focus on what is essential by sorting tasks and providing clear views. It makes sure you prioritize your most important tasks for increased productivity and peace of mind.
Whether it is a simple grocery list, a work project, or a team collaboration, Todoist can handle it all. Its flexibility ensures it caters to various needs, making it a one-stop solution for all your task management requirements.
Below, you can find the pricing and features of different Todoist plans.
If you are just dipping your toes into the world of task management, Todoist's Beginner plan is a perfect starting point. Available at no cost, it allows you to manage up to 5 personal projects and comes with a file upload limit of 5 MB.
With 3 filter views, tasks can be categorized and prioritized with ease. However, the activity history is capped at one week. It is best suited if you are new to task management or have a limited number of tasks to manage.
Typically, this plan is ideal for students who are just starting to explore digital task management tools and have a limited number of assignments or projects.
A step up from the Beginner plan, the Pro Plan is designed for those who are looking to take full control of their tasks and projects. At $4 per month (billed yearly), you can handle up to 300 personal projects and have a generous file upload limit of 100 MB.
With 150 filter views and unlimited activity history, tracking and managing tasks becomes a breeze. The added benefits of task reminders and task durations ensure nothing slips through the cracks.
This plan is great for college or university students juggling various courses, assignments, and extracurricular activities.
Aimed at teams and collaborative projects, the Business plan offers a shared workspace for collective task management. Starting free for teams, it is priced at $6 per member per month (billed yearly) for extended features.
It includes all the Pro plan features but is enhanced for team collaboration with up to 500 team projects and unlimited collaborators. The inclusion of admin and member roles ensures clear delegation and accountability.
While it is ideal for professional teams, this plan can be beneficial for student groups working on collaborative projects or group assignments. However, for individual students, the Beginner or Pro plan might be more fitting.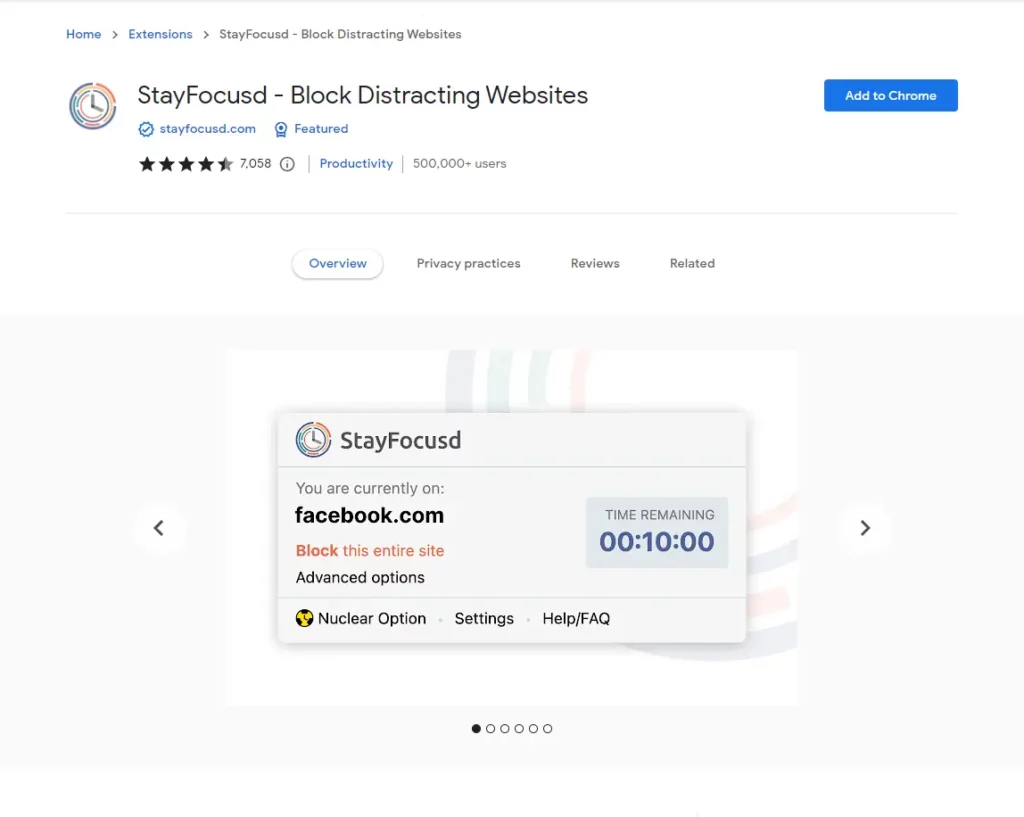 In today's digital age, distractions are just a click away. Whether it is the constant buzz of your phone or the non-stop desktop notifications, staying focused can be a challenge. However, with the StayFocusd Chrome extension, you have a tool designed to help you block out these distractions temporarily so that you remain on task.
Here is a closer look at its features:
StayFocusd allows you to block specific sites that you find most distracting. Whether it is social media, news sites, or entertainment portals, you decide which sites to restrict.
If you are looking for an extreme focus mode, you can choose to block the entire internet, only allowing access to sites you have whitelisted. This ensures maximum concentration with minimal distractions.
Customizable Working Days
Adjust your focus periods by setting rules for blocking on specific days. This feature ensures you stay focused during your most crucial workdays.
For times when you need absolute concentration, enable the Nuclear mode. This feature immediately blocks access to distracting websites. You can customize how and when this mode is activated.
Screen and Tab Management
As a student, managing multiple online resources, research papers, and assignment tabs can be a daunting task. The digital age, while offering a plethora of information at your fingertips, also brings the challenge of efficiently navigating through it all.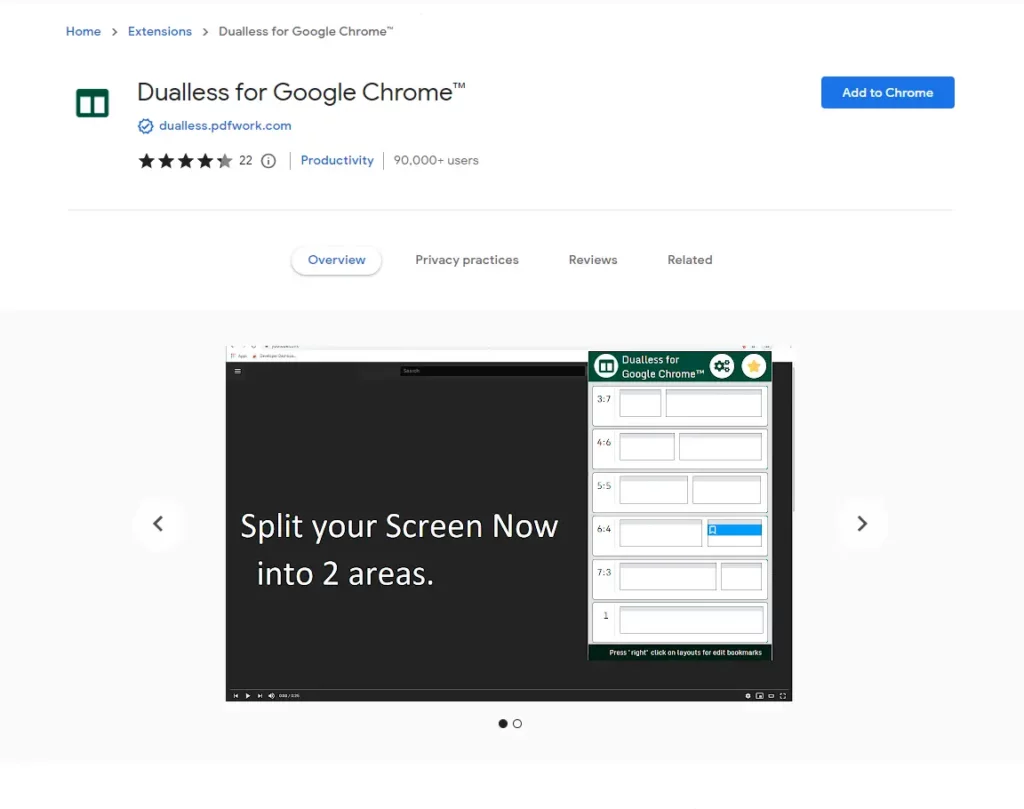 Struggling to manage multiple tabs and wish you had a dual monitor for better multitasking? Dualless might just be the solution you are looking for. This extension is designed to optimize your browsing experience, especially if you don't have the luxury of a dual monitor setup.
Its features are as follows:
With just a couple of clicks, Dualless divides your browser window into two sections. This means you can have your research on one side and your notes or assignments on the other.
Depending on your needs, you can adjust the size of the split windows. Choose from various ratios like 3:7, 4:6, 5:5, 6:4, or 7:3 to get the perfect view.
Done with multitasking? Easily merge the two split windows back into one or expand one window to occupy the full screen.
Taking inspiration from MacOS X, Dualless ensures that when one window is active, its paired window remains visible. This way, both windows always use the full screen, so you don't miss out on any content.
Have a favorite website you frequently visit? Dualless lets you bookmark it. The next time you launch that site, the windows will automatically split in the previously set ratio.
Study Aids
Sometimes, you just need to hear how your text will sound, especially when you are trying to understand complex academic material or when you are multitasking.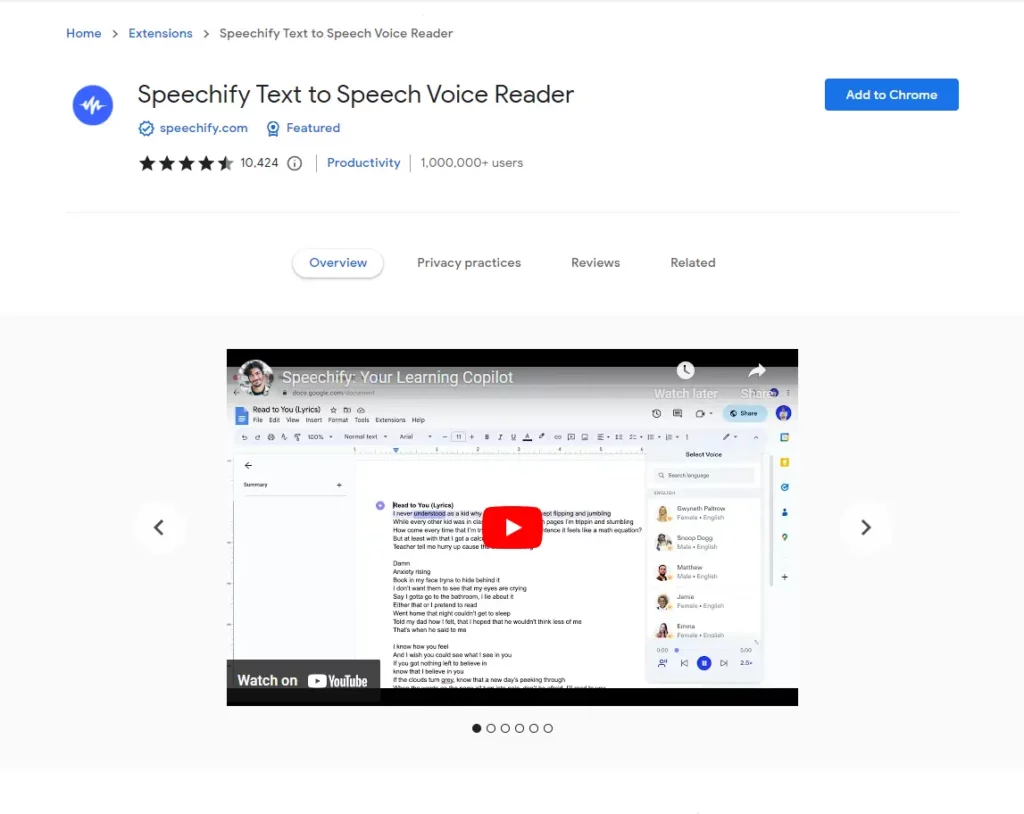 Speechify is a text-to-speech tool that converts written content into spoken words and lets you listen to your reading materials. It is useful for students and individuals who prefer auditory learning or those with reading challenges like dyslexia.
With Speechify, you can also easily transform books, articles, and documents into audio. Below are some of the top features that this extension offers:
Whether it is a research paper, an ebook, or a simple article, Speechify can read it out loud for you. It makes comprehension easier and more flexible.
From celebrities to different accents, you can choose how you want your text to be read according to your preferences.
Integration with Multiple Platforms
Be it using Chrome, iOS, Android, or Safari, Speechify integrates through all platforms easily and allows you to convert text to speech on almost any device.
If you wish to listen to a PDF or a document, simply upload it to Speechify and let the app read it out loud for you. This is handy for lengthy readings or when you want to rest your eyes.
The technology behind Speechify ensures that the voice output is natural and easy to understand. It is not just a robotic voice reading text but a sophisticated AI delivering a lifelike audio experience.
Special Features for Dyslexics and Others
For those with reading challenges like dyslexia, Speechify can be a game-changer and make reading more accessible and enjoyable.
Organization
When studying, it is easy to find yourself drowning in a sea of browser tabs. This clutter can make it challenging to focus and efficiently navigate through your resources. However, there are a few tools designed to bring order to this chaos and make your study sessions productive and organized.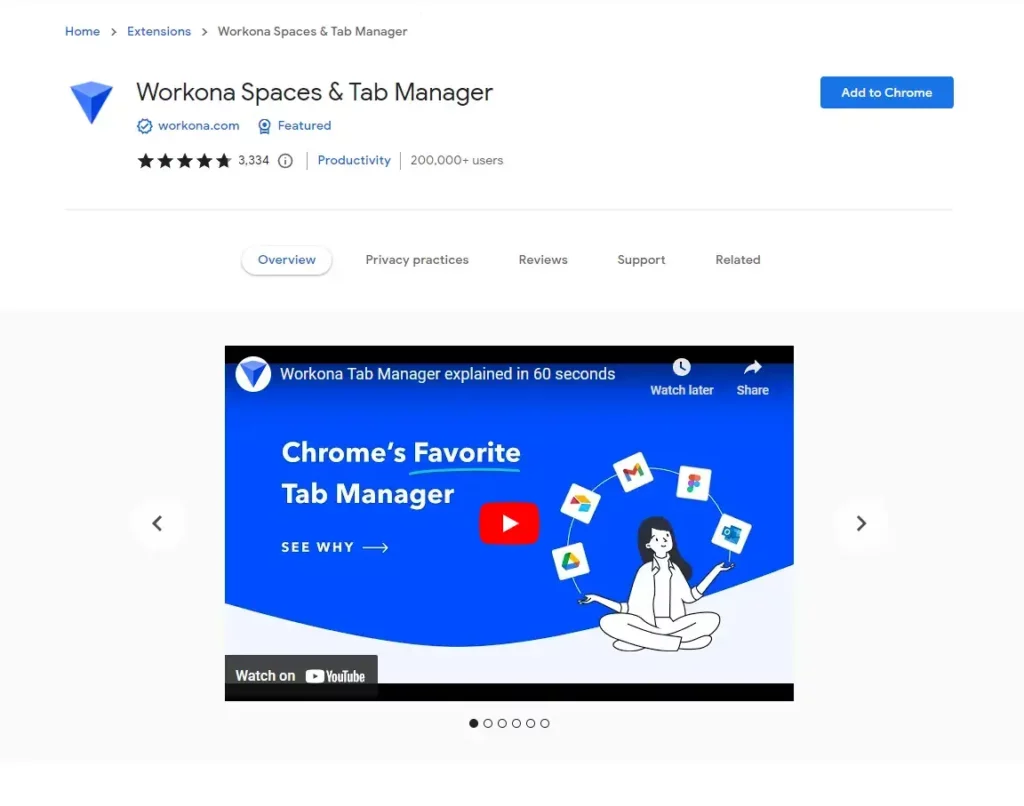 Workona is a browser-based tool designed to help students organize their work when managing multiple tabs and projects. Its incredible features include:
Workona allows you to create dedicated spaces for each of your projects. This means you can have separate spaces for different subjects or assignments so that related tabs are grouped together.
With Workona, you only see the tabs related to your current project or space. All other tabs are neatly tucked away, just a click away. It reduces distractions and helps you focus on the task at hand.
One of the standout features of Workona is its ability to autosave every tab in a space. So, if your browser crashes or you accidentally close a tab, you can easily restore it and pick up right where you left off.
If you use multiple devices for studying, Workona has got you covered. It allows you to sync tabs between computers to make your work always accessible, no matter where you are.
To ensure your browser runs smoothly, Workona offers a tab suspension feature. This means inactive tabs won't hog your computer's memory, and when you need them, they load quickly.
No more scrolling through countless tabs to find the one you need. With Workona, you can quickly search across all your tabs and spaces and make navigation a breeze.
Beyond just tab management, Workona offers features like turning tabs into tasks with a single click, capturing notes, sending links via Slack or email, and a customized new tab page for faster access to your work.
You can also choose from the following different paid plans that this extension tool offers:
If you are looking for a way to keep all your browser work organized, the Pro Plan from Workona might be just what you need. For $7 a month, you get unlimited spaces to manage all those assignments and research projects.
Plus, there are templates to help you set things up quickly. And if you use Google Drive a lot, you will love the embedded Drive folders feature. As a student juggling multiple tasks, this plan could be a game-changer for you.
Now, if you often collaborate with classmates on group projects, the Team Plan might be worth considering. It is $8 per user each month (but you will need at least three people).
It is designed for teamwork, with shared spaces and templates. Also, billing is centralized, so it is less of a hassle if you all chip in. Moreover, if you ever run into issues, there is priority support. But if it is just you working solo, the Pro Plan is probably the better fit.
Ending Words
The world of online learning can be overwhelming for you as a student, but with the right tools, it doesn't have to be. Chrome extensions are here to make your academic life simpler and more efficient. From improving your writing to managing your tabs, these tools have got you covered.