Stepping into the world of Software Engineering requires more than just coding basics—it demands the right tools. While a regular computer can handle routine tasks, tackling big projects with complex code requires a powerful laptop. This is where finding the Best Laptop becomes crucial.
Picking the right laptop for software engineering can be tricky, given the need for handling lots of code and complex tasks. To make it easier, we've picked out some great laptops for both beginners and experienced developers. But first, let's look at the important features you should consider in a high-performance software engineering laptop.
Our Picks for You!
Considering the required features for software engineers we have carefully chosen the five Best Laptops for Software Engineers in 2023.
Laptop Buying Guide 2023: Best Laptop for Software Engineers
CPU
A robust CPU (Central Processing Unit) is crucial to handle the demanding tasks and processes that come with software development. Mostly, software engineering software is pretty resource hungry and when compiling the code or debugging, you need the right amount of computational power to make things work smoothly.
RAM
Adequate RAM is crucial for seamless multitasking, efficient handling of large datasets, faster compilation, and debugging processes. It also supports virtualization and future-proofs your device as software projects become more resource-intensive. This leads to improved productivity and a smoother development experience.
Battery Life
When considering a laptop specifically for software engineering, you must consider the battery life factor because you might have to work for extended periods. You want to ensure it has enough battery capacity to last a full day of work without shutting down or sleeping, losing all your progress in the worst cases.
Display and Screen Size
The display and screen size of a laptop significantly impact software engineering tasks. A larger screen, typically 15 inches or more, offers ample workspace but sacrifices portability. Smaller screens, around 13 inches, prioritize mobility but may require more scrolling during coding and data analysis.
Striking a balance around 13 to 15 inches is popular among software engineers, offering versatility for coding, design work, and ease of mobility. A high-quality display with accurate color representation enhances coding comfort and design precision, ultimately boosting productivity.
Storage
For software engineers handling substantial files, storage becomes a paramount concern. It's essential to choose a laptop with generous storage capacity and the flexibility for future expansion through additional slots. Prioritizing SSD (Solid State Drive) storage over HDD (Hard Disk Drive) is advisable, given its superior read and write speeds, which significantly enhance overall system efficiency and responsiveness.
If you're looking for a more comprehensive guide, take a look at the Ultimate Laptop Buying Guide.
Tabular Summary
Here is the tabular summary of all the Laptops for a quick comparison!
Tabular Summary of Best Laptop for Software Engineers 2023
Detailed Review
1. Apple MacBook Pro 14' (2023)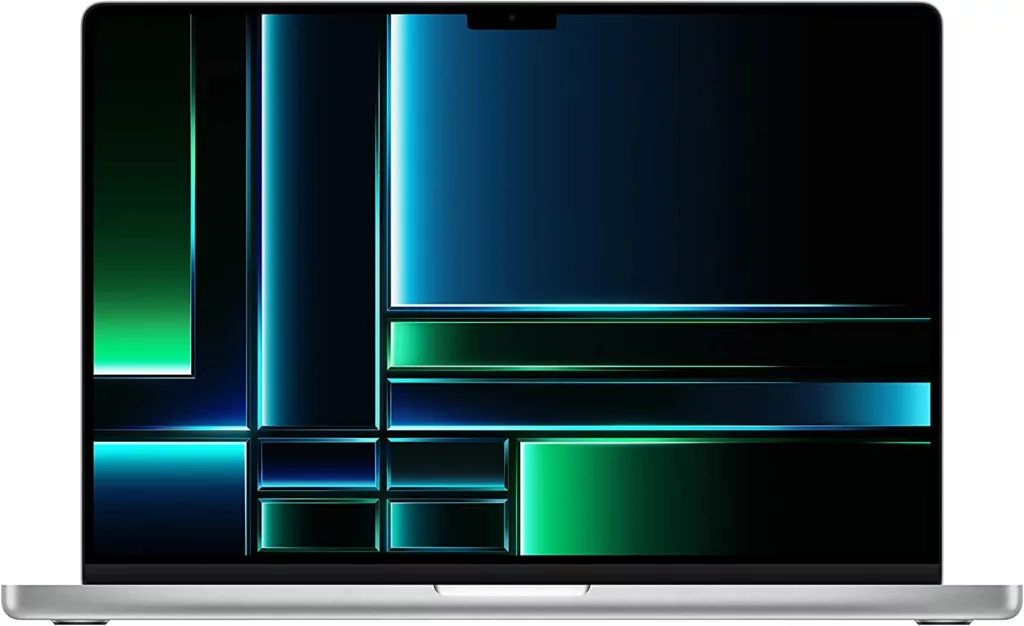 Highlights:
All your pro apps run lightning-fast — including Adobe Creative Cloud, Xcode, Affinity Designer, Microsoft 365, and many of your favorite iPhone and iPad apps.
Look sharp and sound great with a 1080p FaceTime HD camera
MacBook Pro features a MagSafe charging port, three Thunderbolt 4 ports, an SDXC card slot, an HDMI port, and a headphone jack.
Enjoy seamless wireless connectivity with Wi-Fi 6E and Bluetooth 5.3.
Go all day thanks to the power-efficient design of the M2 Pro or M2 Max chip
Magic Keyboard comes with a full-height function key row and Touch ID, which gives you a fast, easy, secure way to unlock your Mac and sign in to apps and sites.
Portability without sacrificing performance
Review
When talking about impeccable performance with top-notch efficiency, you can't skip the Apple Laptops as they reside at the leaderboard. Apple MacBook Pro tops the charts because of its top-of-the-line features that make it ideal for coding enthusiasts.
The Apple MacBook Pro 2023 comes with two variants of Apple's silicon, M2 Pro and M2 Max; we will be discussing M2 Pro as the provided performance is ample for software engineers. Apple's sturdy custom silicon M2 Pro chip offers up to 100% faster CPU performance and up to 3.5x faster GPU performance than the previous generation. With multiple configurations comprising a 10-core CPU alongside a 16-core GPU and a 12-core CPU with a 19-core GPU; you can easily run multiple applications simultaneously, working on software like Blender and rendering 3D models without slowing down, eventually increasing your productivity.
Also, it comprises LPDDR5 16GB RAM, helping the software engineers run demanding applications requiring hefty amounts of memory. MacOS is also pretty easy on the RAM so you won't face any major problems. It packs an exceptional battery life of up to 21 hours to help you carry out your tasks without worrying about a power outage.
Apple is known for its user-friendly interface and ecosystem, and as for that, the MacOS offers you some productivity-enhancing features like integration with other Apple devices, such as the iPhone and iPad, a wide range of creativity software such as Final Cut Pro, Login Pro, and many more.
Also, the MacOS focuses greatly on its security and privacy, which means you can easily store your essential data in your device without being lost or hacked.
Coding can be quite a headache sometimes, and writing code sitting in a place for several hours might not be comfortable enough, so portability is the feature to look for, as carrying around a laptop easily is the basic need of a laptop user.
The Apple MacBook 2023 offers three different sizes: 13', 14', and 16-inch MacBook, weighing 3.02 pounds, 3.5 pounds, and 4.7 pounds, respectively. As for the software engineers, the 14-inch MacBook is ideal as it is 0.66 inches thick and weighs 3.5 pounds, having a suitable screen size, making it lightweight and easier to carry anywhere.
Moreover, It has a backlit keyboard with a scissor mechanism, providing you with a smooth and quiet typing experience, and helps you work in places that do not have great lighting without straining your eyes. Regarding connectivity, the Wi-Fi, HDMI, and Thunderbolt 4 USB-C ports make it easier to connect to other devices.
If you are looking for some enhanced features that MacOS provides, go for the Apple MacBook 2023, as it has powerful specs and provides versatility too, enabling you to be productive in a variety of ways.
2. Dell XPS 15"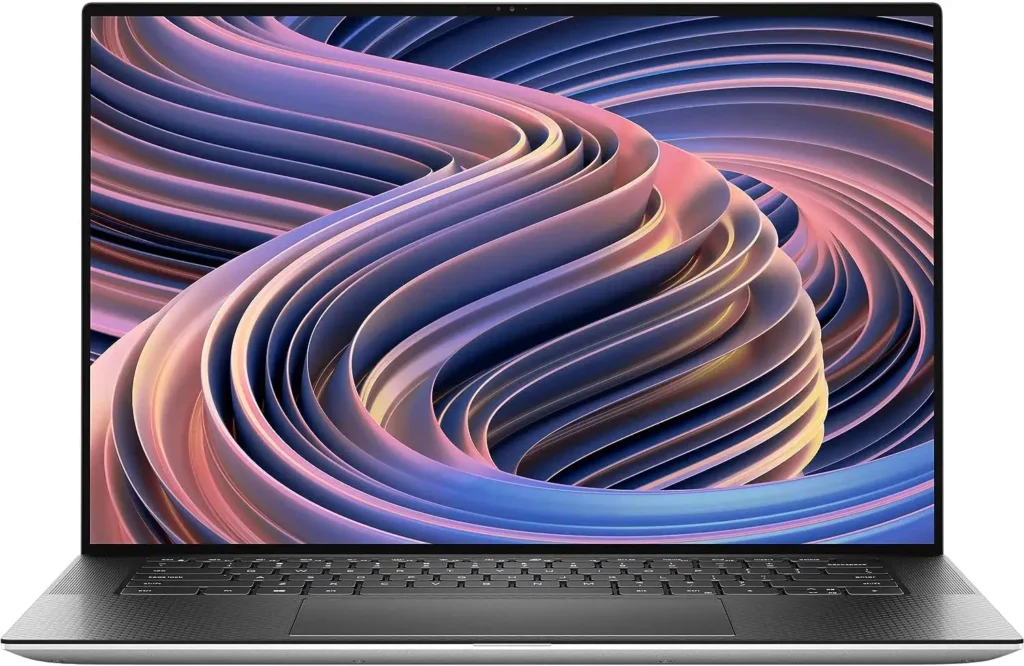 Highlights:
Brilliant 15.6″ WUXGA (1920 x 1200) IPS 500 nits Anti-glare, InfinityEdge, 100% sRGB, 60Hz, Thin Bezel LCD Display. Powered by NVIDIA NVIDIA GeForce RTX 3050Ti 4GB GDDR6, 720p HD Camera, and integrated digital microphone
64GB DDR5 SDRAM 4800 MHz, 2TB NVMe M.2 Solid State Drive, No Built-in Optical Drive
Intel Wi-Fi 6E AX211 (2×2) and Bluetooth 5.3. 2 x Thunderbolt 4 support Power Delivery / DisplayPort through USB Type-C, 1 x USB 3.2 Gen 2 Type-C support Power Delivery / DisplayPort, 1 x Headphone/Microphone Combo Jack, 1 x Memory Card, 1x USB-C Power Jack
Windows 10 Pro, KeyboardBacklit Keyboard Fingerprint Reader; Speakers 2Wx2; 86Whr 6-cell lithium-ion battery
Review
For readers who are bigger fans of Windows compared to the MacOS experience, don't worry; this one's for you. The Dell XPS 15, considering the spec list of its features, may be regarded as a top Windows laptop for software engineering because of its traits, price point, software support, and compatibility with a wide range of necessary tools.
The Dell XPS 2023 15″ comprises the latest 13th Gen Intel Core i9-13900H, having 14 cores and 24 MB cache, and NVIDIA RTX 40 series GDDR5 Graphics cards, which offer extraordinary performance, helping you compile code, work on heavy software, run virtual machines, and handle resource-intensive development tasks without any performance dips or lag.
The heavy software usually requires loads of RAM; in that regard, the Dell XPS 15 offers you up to 64GB DDR5, dual channel RAM. The 512GB lightning-fast NVMe SSD provides faster read-write speeds, reducing processing times.
It comes with a 15.6-inch 4K OLED display, providing you with impeccable color accuracy and stunning visuals, helping you visualize your code and software theme better.
Moreover, the Dell XPS 15 is quite portable as it weighs 4.7 pounds, making it lightweight and easy to carry anywhere. Also, it offers various connectivity features to connect multiple devices with your laptop, including 2x Thunderbolt 4 (USB 3.2 Gen 2 Type-C) ports with power delivery, ensuring that it gets the best out of you.
In conclusion, if you are looking for a laptop that gives you an all-round performance, the Dell XPS 15 is the ideal choice. Because of its powerful processing capabilities, ample RAM, lightning-fast storage, and high-resolution display, if you're looking for a laptop for efficient coding, debugging, and software development, the Dell XPS 15 may give you exceptional results. If you're undecided on whether to go for a Mac or a PC laptop, make sure to check out our in-depth comparison article on the Mac vs. PC debate for a comprehensive breakdown of their features and performance.
Highlights:
The most powerful Surface Laptop. Quad-core powered 11th Gen Intel Core H Series processors handle your workloads.
Design, animate, and render at top speed. Step up to the award-winning Ampere — NVIDIA's 2nd gen RTX architecture, enabling ray-traced graphics and cutting-edge AI features from NVIDIA GeForce RTX 3050 Ti.
Boundary-pushing design with sleek 14.4" (5) touchscreen makes seamless transitions from laptop to entertainment-ready stage to portable creative canvas.
Pair with Surface Slim Pen 2 for the best digital pen experience yet, featuring the feeling of pen on paper(7). Magnetically attach, store, and charge under the front of the keyboard.
Enjoy uniform, true-to-life color and contrast on the beautiful 14.4"(5) PixelSense Flow touch display. Experience smoother scrolling with a refresh rate of up to 120Hz.
Review
The Microsoft Surface Laptop Studio is also an excellent choice for software engineers, having powerful specs and innovative feature requirements. Let's have a look at how the Microsoft Surface Laptop Studio made it to our Best Laptops for Software Engineers list.
The 14.4″ Microsoft Surface Laptop is a powerful and versatile laptop that is well-suited for software engineers as it is equipped with an Intel Core H35 i7-11370H processor and up to 32GB LPDDR4X RAM, allowing you to handle your inventory of resource-intensive applications and large codebases with ease. Having a dedicated graphics card like NVIDIA GeForce RTX 3050 Ti with 4GB GDDR6 memory enhances the laptop's capabilities, helps you with tasks like machine learning and data visualization, and also makes it great for gaming when you're on a break.
The versatility is invaluable for software engineers, so because of its convertible design, this laptop allows you to transform it into a tablet or studio mode, letting you work flexibly wherever you are.
Moreover, it has a good range of connectivity options, like 2x USB-C ports, a 3.5mm jack connection, and an integrated surface pen, allowing you to use it as a tablet using the touchscreen. The Thunderbolt 4 ports offer high-speed data transfer rates and external display support, enabling you to connect extra peripherals to boost productivity.
Overall, the Microsoft Surface Laptop Studio combines high-end tech and is best for people who work long hours. Its powerful specs and versatility form factors make it an ideal laptop for software engineers to do them efficiently and boost creativity.
Highlights:
13th Generation Intel Core i7-1370P vPro Processor
14″ 2.8K (2880×1800)OLED, IPS, Anti-Glare, Non-Touch, 100%sRGB, 400 nits, 60Hz, Low Power, LED Backlight
Graphic Card: Integrated Intel Iris Xe Graphics
Lenovo Thinkpad meets Intel® Evo™ laptop design requirements, hardware specifications, and key user experience targets for consistent responsiveness
Evo-certified device also includes Intel® Unison™ for seamless connectivity with your Android or iOS smartphone for calling, messaging, and file and photo sharing
all-day battery life, fast charging, and intelligent video conferencing
provides Vibrant visuals that suit your needs
fingerprint reader integrated with the power button to the facial recognition software that works with the IR camera
Review
Readers who aren't fans of the fancy and focus entirely on performance will love this product; Lenovo ThinkPad X1 Carbon Gen 11 might be a good option for you, as it has all the essential features while being pocket-friendly. Let's take a deep dive into its attributes and why we featured it on our list.
Lenovo ThinkPad X1 Carbon Gen11 14″ provides various CPU configurations, but the 14″ variant is the best for software engineers as it is equipped with 13th Gen Intel Core i7-1365U, having 10 cores and 12 threads, and up to 64GB LPDDR5X 6000MHz RAM, enabling multitasking, efficient code compilation, and handling resource-intensive development environments. These specs help you run virtual machines, debugging tools, and complex IDEs without lag.
To rid you of storage worries, the Lenovo ThinkPad X1 offers up to 2TB of SSD, offering lightning-fast read and write speeds and relatively less access time, helping you to code efficiently. Regarding display, X1 Carbon features a 14-inch 2.8K OLED display with Anti-Glare, and peaking a maximum brightness of 400 nits alongside narrow bezels, making it a complete experience.
Another reason to opt for the Lenovo ThinkPad X1 Carbon G11 is its security. As program codes can be crucial, this laptop offers different security features, including a dTPM 2.0 chip for hardware-based encryption, a ThinkShutter camera cover, and a Match-on-Chip fingerprint reader for biometric authentication to prevent unauthorized access.
Furthermore, it weighs around 2.47 pounds and offers excellent battery life, allowing users to work on the go, whether in the office, coffee shop, or anywhere else. It is durable as it is built to MIL-STD 810H standards, which means it can withstand daily wear and tear.
In conclusion, the Lenovo ThinkPad X1 Carbon G11, because of its powerful processor, ample memory and storage, high-resolution display, durability, and portability, makes it an ideal choice for people looking for a laptop for software engineering.
Highlights:
The latest powerful and efficient 13th Generation Processor (Up to 5.0 GHz with Intel Turbo Boost Technology, 24 MB Intel Smart cache, 14 Cores, 20 Threads)
16″ 3K+ Touchscreen, 3072 x 1920 pixels, IPS, multitouch-enabled, 400 nits, Anti-glare, IPS, edge-to-edge glass, micro-edge, Corning Gorilla Glass NBT, Low Blue Light, 100% sRGB, 60Hz, Thin Bezel LCD; Powered by Intel Iris Xe Graphics
Wi-Fi 6E (2×2) 802.11AX and Bluetooth 5.3 Combo; 2x USB Thunderbolt 4 / USB4 40Gbps Type-C support Power Delivery / DisplayPort, 1x USB 3.2 Gen 2 Type-A, 1x HDMI v2.0, 1x Headphone and microphone combo jack
Backlit Keyboard, Fingerprint Reader; Face Recognition Camera; 83Whr
6-cell lithium-ion battery (up to 14 hours battery life)
14.09″ x 9.66″ x 0.78″ inches, 9.66 lbs; Nightfall Black;
Review
It is nearly impossible not to list an entry from HP when talking about laptops. For software engineers looking for a premium touch in addition to spec robustness, the HP Spectre x360 (2023) is an excellent choice.
Firstly, HP offers different variants of Spectre x360, but the laptop we're going to talk about is the HP Spectre x360 16t-f2000, which comprises a 13th Gen Intel Core i7-13700H with 14 cores and 20 threads, and 16GB of RAM, which will provide a solid performance for your coding needs. It comes with a 16-inch Full HD high-end resolution display; its multitouch, IPS anti-reflective panels provide extraordinarily sharp graphics and accurate colors that can help you with visual clarity.
Secondly, the 512GB PCIe NVMe M.2 SSD storage on board provides moderate space to store your project files and other necessary documents, without the fear of it being slowed down. However, if you have to store your complex projects that require extensive space, you may have to add more storage or replace the current one with some extra gigs of storage.
Battery life is crucial for software engineers, primarily when they work for extensive periods. To solve that problem, the HP Spectre x360 offers up to 16 hours of battery life, allowing you to work carelessly. Moreover, the 2 Thunderbolt 4 and 1 USB Type-A ports can help reach the data transfer speeds to the sky.
Altogether, the HP Spectre x360 is a choice to make because of its ample RAM and large SSDs; software engineers can run multiple virtual machines, emulators, and IDEs simultaneously without worrying about lags or storage restrictions.
Conclusion
When it comes to choosing the perfect laptop for software engineering, the task can be quite daunting, especially with top-tier brands like Apple, Lenovo, HP, Microsoft, and Dell in the mix. The definition of "best" varies depending on your specific needs and preferences. Nonetheless, in our guide, we've highlighted laptops that shine in their respective areas, offering the power, portability, and features necessary for tasks like coding and debugging.
If your interests extend beyond coding to include gaming, consider a laptop with a dedicated graphics card like the Microsoft Surface Laptop Studio.
On the other hand, if you value mobility while maintaining coding efficiency, the HP Spectre x360, with its versatile 2-in-1 design, is an attractive option that can even transform into a tablet.
For those who prioritize high performance and unwavering productivity, the Apple MacBook Pro 14' (2023), Lenovo Thinkpad X1 Carbon Gen 11, and Dell XPS 15 are solid choices, purpose-built to deliver peak productivity.
In the realm of software engineering, you have a wealth of options to explore. Whether you're looking for versatility with a 2-in-1 laptop or uncompromising productivity, these choices provide the essential tools for successful coding. Happy coding!
Also, check out Best Budget Laptop For Programming.
Software Engineering Tools and Platforms
Software engineers use a variety of tools and software applications to help them develop, test, and maintain software. Here are some commonly used software and tools in the field of software engineering:
Integrated Development Environments (IDEs):
Visual Studio Code: A highly popular, open-source code editor developed by Microsoft.
Eclipse: An open-source IDE that supports multiple programming languages.
IntelliJ IDEA: A Java-specific IDE, but with plugins for other languages too.
PyCharm: An IDE specifically designed for Python development.
Xcode: Apple's integrated development environment for macOS and iOS app development.
Version Control Systems:
Git: The most widely used version control system for tracking changes in source code.
GitHub: A web-based platform for hosting and collaborating on Git repositories.
GitLab: Another web-based platform for Git repository hosting and DevOps lifecycle management.
Text Editors:
Sublime Text: A lightweight, customizable text editor.
Atom: An open-source, hackable text editor developed by GitHub.
Notepad++: A popular text editor for Windows with extensive plugin support.
Project Management and Collaboration Tools:
Jira: Used for issue tracking and project management.
Trello: A simple and visual project management tool.
Slack: For team communication and collaboration.
Confluence: A collaboration tool used for creating and sharing documents.
Virtualization and Containerization:
Docker: For containerization of applications and services.
VirtualBox: A virtualization tool for creating and managing virtual machines.
Vagrant: Helps in creating and configuring development environments.
Build and Continuous Integration Tools:
Jenkins: An open-source automation server for building, deploying, and automating projects.
Travis CI: A cloud-based continuous integration service.
CircleCI: Another cloud-based continuous integration and continuous deployment (CI/CD) platform.
Database Management Tools:
MySQL Workbench: A visual database design tool for MySQL.
PostgreSQL: An open-source relational database system.
MongoDB Compass: A GUI for MongoDB.
Testing Tools:
JUnit: A popular testing framework for Java.
Selenium: Used for automating web application testing.
Postman: An API testing tool for RESTful APIs.
Text and Code Editors:
Vim: A highly configurable, text-based code editor.
Emacs: An extensible, customizable text editor.
Debugging Tools:
GDB: The GNU Project Debugger for debugging C and C++ programs.
Chrome DevTools: A set of web developer tools for debugging web applications.
These are just some of the commonly used software and tools in the software engineering field. The specific tools a software engineer uses can vary depending on their project requirements, programming languages, and personal preferences.